Vivacious sensualist. Your best-kept secret. Eminently feminine companion. Girlfriend experience with an unrivalled twist.  A Nordic goddess with a mischievous, submissive side. A wide-eyed wonder who plays to win.
My name is Famke Fonteyn. If you haven't heard about me yet, don't worry. Refined and high-class, I only invite a select few into my inner circle, and there's plenty of time for us to get to know each other better.

Never cookie-cutter, in life, I can take up many roles. Variety, after all, is the key to happiness. Who will I be for you? Sensual or submissive? I can't wait to find out. One thing is for sure: you'll never forget me.
At a glance
Although I hail from colder climes, I'm far from aloof. Warm, attentive, sensual and sweet, I treasure true connection over fleeting encounters. An excellent listener, I like nothing better than making you smile.
A scientist by day, I'm intelligent but empathetic, witty but always kind. I delight in spending time with like-minded individuals. I love to laugh, and nothing is more alluring to me than authenticity. In every respect, I give as good as I get and seek out the very best life has to offer. If you're ambitious and discerning, but don't take life too seriously, you'll find a kindred spirit in me. If you'll let me, I'd love to help you escape from the pressures of your busy daily life.  
Age – 36
Height – 5ft7
Nationality – Northern European
Languages – English
Dress size – 6/8
Hair Colour – Blond
Eye Colour – Blue
The Devil is in the Details…
A keen horse-rider, my years of equestrianism have left me more than equipped to whip even the naughtiest ponies into shape. You'll find I'm just as happy in a pair of white jodhpurs and mud-splattered boots as I am in Agent Provocateur and sky-high Giuseppe Zanotti heels. Lucky for you, my supple curves look fabulous in both.

Delicately shapely and free from cosmetic surgery, I'm impeccably groomed and well put-together. My style is classic with a dash of daring; elegant but evocative with a hint of a bad girl beneath the polished surfaces.
So much of my day-to-day job takes place in the mind, and this world outside work has freed me, and allowed me to indulge my more sensual and sometimes submissive side.
If you think you can coax me away from my hectic schedule, please do get in touch to arrange our next rendezvous.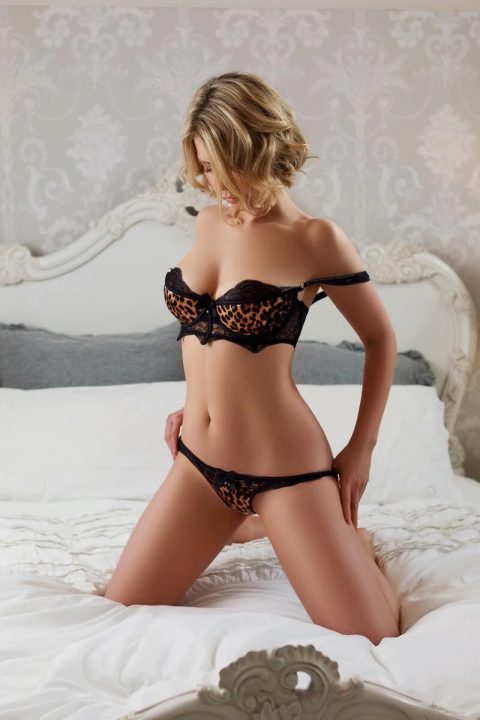 What Do I Love?
A tomboy at heart, when I'm not flitting back and forth across the world, you'll find me in the gym, or cantering about the paddocks, or hiking up the highest hills I can find. Unafraid to break a sweat, I love to push my body to the limit in more ways than one. In every part of life, I believe it's important to be a good sport. Indulge my competitive side. Laugh with me. I'm not afraid to go for gold, and nor should you be.
When it comes to life and lovers, I seek out the exquisite. A foodie with a gin fixation, I'm an unashamed aficionado when it comes to my tipple of choice. (Please, don't feed me Gordon's.) Always keen for new experiences, I have an appetite for the unusual as well as the gourmet. I've been told I have an open mind, and I believe in trying anything once.
Who?
Why, you and me, of course!
My suitors hail from many walks of life. Perhaps you're a gentleman looking to indulge his not-so-gentle side; an executive with an itch to scratch; the life of a party in need of a dazzling plus-one. Whoever you may be, let me cater to you. Whether I'm your first-ever companion, or a part of your life's rich tapestry, I can guarantee I'll leave you absolutely satisfied.
Above all else, I prize generosity, kindness and impeccable manners. While I'm looking for a good time with plenty of laughter, I also insist upon utmost respect. It's a two-way street, after all.
Of course, I love to be spoiled. A few of my favourite things include Roland Mouret dresses (size 8) and REN toiletries. There's more than one way to a girl's heart, though. We may be living in a material world, but why not give me the gift of experiences too? Take me over the alps in a helicopter or book us a tasting menu at your favorite gourmet bistro. I love to stay active.
What?
Active of mind as well as body, I adore long nights of sparkling conversation over a glass or two of good champagne.
Forever ready to indulge my outdoorsy side, I'm keen for an out-of-the-ordinary date. I relish once-in-a-lifetime adventures, love to laugh and make shared memories. Together, we could hit the ski slopes, whip up gin martinis at a distillery, or race each other through the desert on quad bikes. The possibilities are endless.
For the more relaxed of spirit, I'm equally at home lounging around a hotel suite or sipping cocktails in a cabana by the pool.
When?
Nothing pleases me more than good advance-planning. As a modern-day Renaissance woman, my life is too busy for dropped plans or meetings at short notice. A flair for forward-thinking is sure to turn my head. Much like you, I can afford to be selective with my time, and I'm far more likely to be able to fit you in if you give me at least a few days' notice. That said, spontaneity sometimes pays off, and I may be able to cater to a last-minute request if you ask very nicely.
They say all's fair in love and war but invest your time in me and I'll deliver tenfold. What can I say? It's simply in my nature to go above and beyond.
Where?
Whisk me away! I love nothing more than being flown out to somewhere beautiful or exotic. A practiced hotel ninja, I'm eminently discreet and completely at ease in the world's finest locations.
Although I'm London-based, my schedule means I'm no longer able to meet at my place. Instead, book us a room somewhere gorgeous and let me come to you. Doesn't that sound like more fun anyway?